Exposing and confronting the power of the fossil fuel industry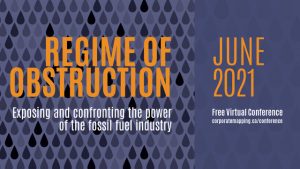 Free Virtual Conference, June 2021
The Corporate Mapping Project Conference, Regime of Obstruction, looked at fossil fuel industry power and how we can challenge it. This free event series was open to the public and took place over the month of June 2021. It featured talks, panels, workshops and documentary film screenings by academic and community-based researchers, Indigenous leaders, filmmakers and activists.
In case you missed any or would like to watch them again, we've posted video recordings of all eight sessions:
PROGRAM
Tuesday, Jun 1, 2021 / 01:00 PM Pacific Time

Regime of Obstruction: Fossil Capitalism and the Challenge of Climate Justice

Book Launch
This webinar featured contributors to the newly-published book
Regime of Obstruction: How Corporate Power Blocks Energy Democracy
(Athabasca University Press 2021). The session was hosted by the Corporate Mapping Project's co-directors, Bill Carroll (the book's editor) and Shannon Daub. Panelists shared their research and discussed strategies for overcoming fossil capitalism in Canada, a settler colonial nation.
Speakers:
Cliff Atleo, Simon Fraser University
Emilia Belliveau
Emily Eaton, University of Regina
Shane Gunster, Simon Fraser University
Mark Hudson, University of Manitoba
Ian Hussey, Parkland Institute
Pamela Holway, Athabasca University Press
Co-hosted by the Corporate Mapping Project and the Society for Socialist Studies.
Thursday, Jun 3, 2021 / 01:00 PM Pacific Time

Corporate Mapping Project Webinar: Investigative Corporate Research Skills
It's no secret that corporate power is a major obstacle to ambitious action on climate change and the interests of communities. The more we know about the companies locking in the fossil fuel status quo, the better equipped we are to challenge them.
This one-hour webinar provided an overview of how to research a corporation, and introduced attendees to the Corporate Mapping Project (CMP) database. The CMP database provides information about key players in Canada's fossil fuel sector, and is hosted by Littlesis.org (a watchdog network connecting the dots between the world's most powerful people and organizations).
The workshop was led by Zoë Yunker, a Vancouver-based journalist writing about environmental justice and energy politics. Zoë has also worked with the Corporate Mapping Project since 2015 as a researcher and project coordinator. She was joined by CMP Co-Directors Bill Carroll and Shannon Daub.
Monday, June 14, 2021 / 01:00 PM Pacific Time

The Price of Oil

Documentary screening and talk
The Price of Oil is an investigative series revealing the hidden health consequences of oil industry extraction and refinement activities for workers and residents in Saskatchewan and Ontario, and the regulatory capture that has led to environmental damage and serious safety risks in extraction and processing zones. Watch the "Crude Power" documentary, focused on Saskatchewan, and hear from some of its creators about what has happened since the documentary was made and the state of the fossil fuel industry in that province. Hosted by Simon Enoch, Director of CCPA Saskatchewan Office.

Speakers:
Patricia Elliott, Associate Professor, Journalism, University of Regina
Patti Sonntag, Director of the Institute for Investigative Journalism, Concordia University
Tuesday, June 15, 2021 / 11:00 AM Pacific Time

State of play: Fossil fuels and energy politics in Canada
Panel discussion style webinar on the fossil fuel and energy politics and trends in Canada with the Corporate Mapping Project Team members and researchers.
Speakers:
Eve Saint, Wet'suwet'en Land Defender
Marc Lee, Senior Economist, CCPA-BC
Ian Hussey, Research Manager, Parkland Institute
J. David Hughes, geoscientist and President of Global Sustainability Research
Jean Philippe Sapinski, Assistant Professor, University of Moncton
Eric Pineault, Professor, University of Quebec
Thursday, June 17, 2021 / 04:00 PM Pacific Time

The New Corporation: The unfortunately necessary sequel

Documentary screening and filmmaker talk
The Corporation (2003) examined an institution within society. The New Corporation (2020) reveals a world now fully remade in the corporation's image, perilously close to losing democracy. This new film traces the devastating consequences, connecting the dots between then and now, and inspires with stories of resistance and change from around the world. Conference registrants got special access to watch the film online ahead of time and were able to participate in a discussion with filmmakers Joel Bakan and Jennifer Abbott.
Tuesday, June 22, 2021 / 12:00 PM Pacific Time

Just transition
Panel discussion on how to ensure a just transition away from fossil fuels, hosted by Bill Kilgannon, Executive Director of Parkland Institute.
Speakers:
Crystal Lameman, Beaver Lake Cree Nation, Government Relations Advisor and Treaty Coordinator, Treaty No. 6
Emily Eaton, Associate Professor, University of Regina
David Gray-Donald, journalist
Leonard Austin, Coordinator, JUST Transition Center, Keephills, Alberta
Thursday, June 24, 2021 / 01:00 PM Pacific Time

Decolonizing research and climate policy

A panel discussion presented by Indigenous Climate Action, led by Eriel Deranger and members of ICA's Decolonizing Climate Policy project.
Indigenous Climate Action at this session further expanded on the findings from Phase 1 of Indigenous Climate Action's Decolonizing Climate Policy in Canada project, uncovering the truth of Indigenous realities in the creation and implications from exclusion in Climate policy work to date. Part of reconciliation in action is decolonizing the narrative in which it is presented to us in all its forms, including climate issues. We heared from a panel of Indigenous people involved directly in their territories on climate solutions, leading us into what Indigenous-Led climate policy includes. This panel hoped to have the audience discussing ways they can "decolonize" their perspectives and support ongoing Climate solutions inclusive of all People.
Speakers:
Eriel Tchekwie Deranger, Executive Director of Indigenous Climate Action
Rebecca Sinclair, Indigenous Climate Action
Beze Gray, Aamjiwnaang and Sarnia Against Pipelines
Deborah McGregor, Associate Professor & Canada Research Chair in Indigenous Environmental Justice, York University
Friday, June 25, 2021 / 02:00 PM Pacific Time


Keynote Event with Naomi Klein and Avi Lewis, in conversation with Anjali Appadurai

People v Fossil Power – How movements for climate justice can win the future

A conversation with Naomi Klein, Avi Lewis and Anjali Appadurai on the topic of People v Fossil Power – How movements for climate justice can win the future. This was the closing event at the Virtual Corporate Mapping Project Conference, Regime of Obstruction, in June 2021. Naomi, Avi and Anjali were joined by Mary Point who opened the event, and Shannon Daub, Co-Director of the Corporate Mapping Project.

This conference is hosted by the Corporate Mapping Project, University of Victoria, Canadian Centre for Policy Alternatives – BC & Saskatchewan Offices & the Parkland Institute.
We thank the Minor Foundation for Major Challenges for their support of this event.