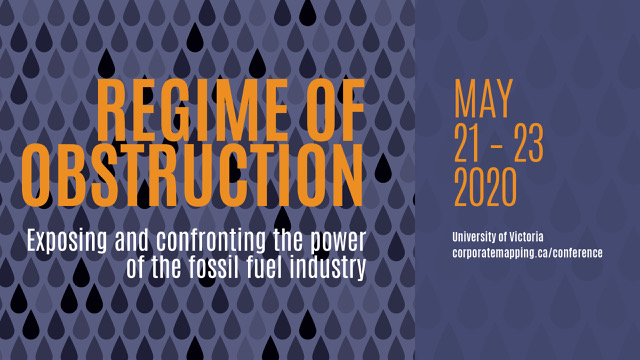 Hosted by the Corporate Mapping Project, the Regime of Obstruction conference is a gathering of researchers, activists, and community leaders that examines fossil fuel influence and power and how we can challenge it, including: 
How the fossil fuel corporate network is structured and financed.

Industry's reach and influence into political and cultural life and civil society (including use of social media networks and citizen advocacy groups, and the politics of climate denial).

How corporate power is exercised and resisted along the extraction-production-distribution chain, including at 'flashpoints' of resistance.

Indigenous resistance and self-determination in the face of fossil fuel corporate power.

How to phase out fossil fuel production in Canada in a manner that ensures a just transition for workers, communities and Indigenous people.

Strategies for challenging fossil corporate power and holding industry accountable for its impacts on people, lands and the environment.
Confirmed speakers to date include:
Winona LaDuke (Honor the Earth)

Pam Palmater (Ryerson University)

Paul Engler (Author, This is an Uprising)

Naomi Klein (Author, On Fire: The Burning Case for a Green New Deal)

Avi Lewis (The Leap)
Registration fees:
Organizational, academic and non-profit: $250
Low-income and student: $150
Core team members and subsidized participants: No cost
Tickets and registration coming soon—stay tuned!
This conference is hosted by the Corporate Mapping Project and:
University of Victoria
Canadian Centre for Policy Alternatives
Parkland Institute
We strive to host an inclusive, accessible conference that enables individuals of all abilities to engage fully. For inquiries about accessibility, please contact Bojan Stanojlovic by email [email protected] or phone 604-801-5121 ext 230.
This conference is supported by the Social Science and Humanities Research Council of Canada (SSHRC) and the Minor Foundation for Major Challenges.