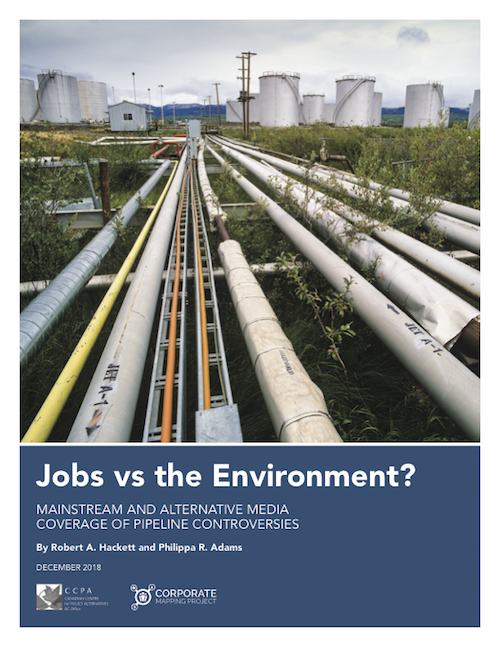 Much of the argument advanced in support of expanding Canada's fossil fuel production centres on job creation and economic benefits. Politicians, pundits and corporate spokespeople who support fossil fuel infrastructure projects—such as new oil and gas pipelines—often evoke this rhetoric when they appear in the media.
This study examines how the press—including corporate and alternative outlets—treats the relationship between jobs and the environment. Focusing on pipeline projects that connect Alberta's oil sands to export markets, it also asks which voices are treated as authoritative and used as sources, whose views are sidelined, which arguments for and against pipelines are highlighted, and what similarities and differences exist between mainstream and alternative media coverage of pipeline controversies.
Download the report  

Resources related to this report:
This study is part of the Corporate Mapping Project (CMP), a research and public engagement initiative investigating the power of the fossil fuel industry. The CMP is jointly led by the University of Victoria, Canadian Centre for Policy Alternatives and the Parkland Institute. This research was supported by the Social Science and Humanities Research Council of Canada (SSHRC).
Author:
Robert A. Hackett and Philippa R. Adams
Robert A. Hackett is a professor emeritus of communication at Simon Fraser University. He has written extensively on media democratization, and journalism as political communication. His most recent collaborative books include Journalism and Climate Crisis: Public Engagement, Media Alternatives (2017), Expanding Peace Journalism: Comparative and Critical Approaches (2011) and Remaking Media: The Struggle to Democratize Public Communication (2006). He is on the editorial advisory boards of Journalism Studies, Journal of Alternative and Community Media and other academic journals. He has co-founded several community-oriented media education and advocacy initiatives, including NewsWatch Canada, OpenMedia and Media Democracy Days.
Philippa R. Adams is a PhD student in the School of Communication at Simon Fraser University. Her research focus is the way audiences in the age of social media interact with, talk about and understand popular culture, particularly film and television. She holds a BA in Political Science from the University of Victoria and an MA in Communication from SFU. Her master's thesis examined the production process on the television series Battlestar Galactica. She works as the research manager at the GeNA Lab, where she manages a range of quantitative and qualitative research projects.