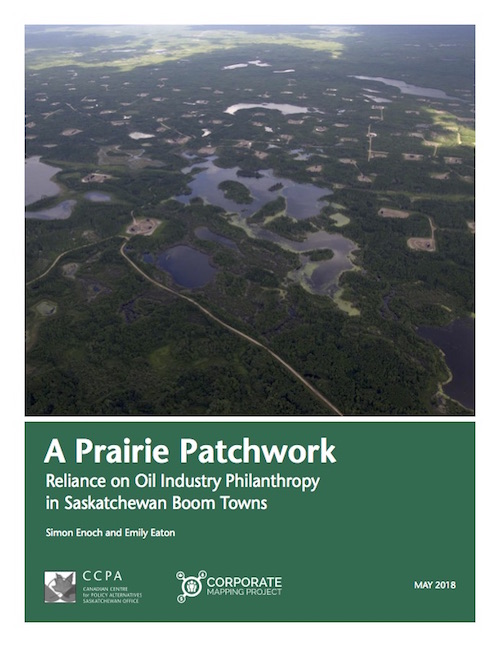 When we think of a "boom town," we often imagine a formerly sleepy rural town suddenly awash in wealth and economic expansion. It might surprise some to learn that for many municipalities in oil-producing regions in Saskatchewan, the costs of servicing the oil boom can outweigh the benefits.
Instead, as Simon Enoch and Emily Eaton highlight in A Prairie Patchwork: reliance on oil industry philanthropy in Saskatchewan boom towns, many Saskatchewan municipalities have had to rely on oil industry philanthropy for the provision of essential infrastructure and public services that most would consider to be the sole purview of government. This reliance is a direct result of the provincial government's underfunding of public infrastructure and services and the inability of some local municipalities to capture sufficient revenue from the oil development in their backyards.
Download the report  


Other resources related to this report:

—
This study is part of the Corporate Mapping Project (CMP), a research and public engagement initiative investigating the power of the fossil fuel industry. The CMP is jointly led by the University of Victoria, Canadian Centre for Policy Alternatives and the Parkland Institute. This research was supported by the Social Science and Humanities Research Council of Canada (SSHRC).
Author:
Simon Enoch and Emily Eaton
Simon Enoch is Director of the Saskatchewan Office of the Canadian Centre for Policy Alternatives. He holds a PhD in Communication & Culture from Ryerson University with a research interest in corporate social responsibility and political ecology.
Emily Eaton is an Associate Professor in the Department of Geography and Environmental Studies at the University of Regina and a co-investigator with the Corporate Mapping Project. She is the author of two books, Fault Lines: Life and Landscape in Saskatchewan's Oil Economy (with photographer Valerie Zink) and Growing Resistance: Canadian Farmers and the Politics of Genetically Modified Wheat. Her work concerns environmental, social, and economic aspects of resource development and resource-based communities.