Royal Bank of Canada CEO David McKay made a few headlines last week when he offered his thoughts to the Edmonton Chamber of Commerce on the energy and climate challenges facing Canada. In his speech he called on the federal government to help get fossil fuel resources to market by approving new bitumen pipelines and other infrastructure. Doing so, he argued, is essential to the transition to a "cleaner economy."
And it seems he has the ear of Catherine McKenna, federal Minister of Environment and Climate Change. The day after announcing her government's approval of the controversial Pacific Northwest LNG project, she tweeted this nugget from McKay's speech: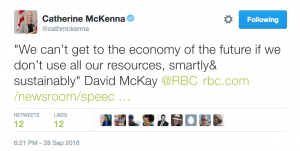 There is plenty to say about the content of the speech, which is a study in the new climate denialism – the idea that we can take effective action on climate change while at the same time ramping up oil and gas production and building new pipelines. But first, consider the source.
McKay hinted at what's on the line for his company when he stated, "RBC [Royal Bank of Canada] has a big stake in Canada getting this right" and described RBC as "Canada's leading energy bank, for conventional, non-conventional and renewable resources."
Let's get a little closer to full disclosure: the largest of Canada's big banks, RBC has a very close relationship with the fossil fuel industry and a strong vested interest in its expansion.
On the lending side, investments in the oil and gas sector account for 4.6% ($7 billion) of RBC's total business loans and acceptances. This is a relatively small share of the bank's lending portfolio, so some losses may be manageable, although nearly 52% of RBC's gross impaired (delinquent or at risk) business loans are in the oil and gas sector. The economic slowdown from the crash in oil prices also impacts the mortgage side of RBC's business, especially in energy sector-dependent regions hit hard by job losses. All of which has made for much nervousness in the financial world. So it's not surprising that big banks like RBC would be anxious for a return to a booming Canadian oil and gas sector.
RBC is also heavily invested in fossil fuel companies through its funds. We took a look at RBC's investments in Canada's 15 carbon majors — defined as the biggest revenue-earners in the country's oil, gas and coal industries.[1] Three of the majors (Nexen, Talisman/Repsol and Shell Canada) are not publicly-traded. Of the remaining 12 publicly-traded companies, RBC has an ownership stake in every one of them.[2]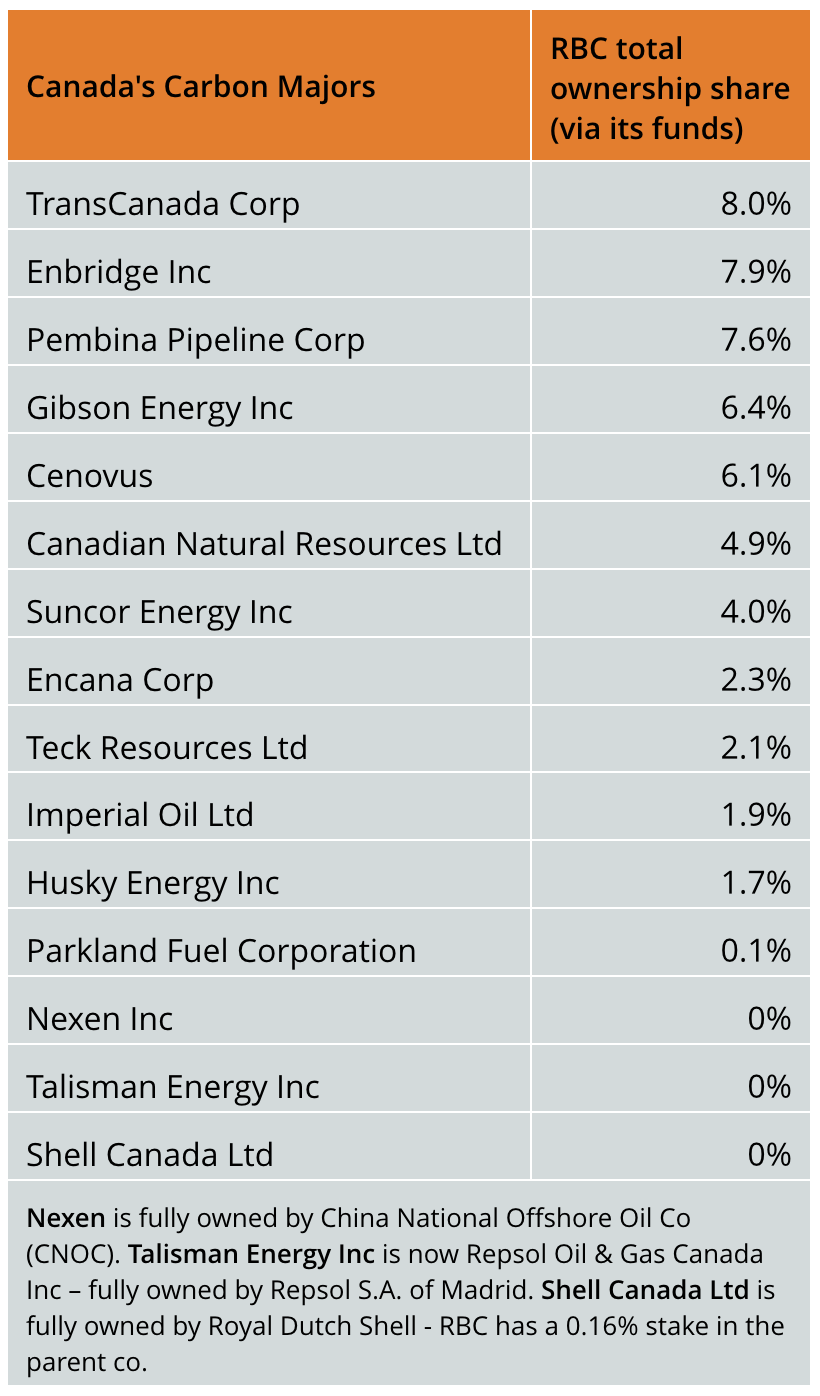 Of course, these holdings are likely just the tip of the iceberg. We haven't looked closely at RBC's investments in fossil fuel corporations outside Canada — though a cursory review of its Global Energy Fund shows it has significant investments in some of the largest fossil fuel companies in the US and globally.
For example, 6% of the Fund's equity holdings is in US-based Continental Resources (one of the largest producers of the highly volatile Bakken crude oil, of the variety that exploded in Lac-Mégantic, Quebec), 5.5% is in Exxon Mobil Corp (now under investigation for fraud for its pivotal role in the climate denial industry), 4.9% is in French multinational Total SA (fined for corruption earlier this year for its role in the UN oil-for-food scandal), and 3.2% is in Halliburton (a major provider of oil and gas field services) — to name just a few. We have yet to analyze the fossil fuel holdings of RBC's numerous major subsidiaries.
RBC's close relationship with the fossil fuel sector can also be seen in its links at the board level. We searched the positions held by RBC Directors and senior executives on the boards of other Canadian-based fossil fuel companies—ie, board interlocks— with the results shown below. RBC has direct interlocks with two of the Canadian energy majors – Suncor and Imperial Oil – as well as with six mid-sized Canadian oil, gas and coal companies.[3]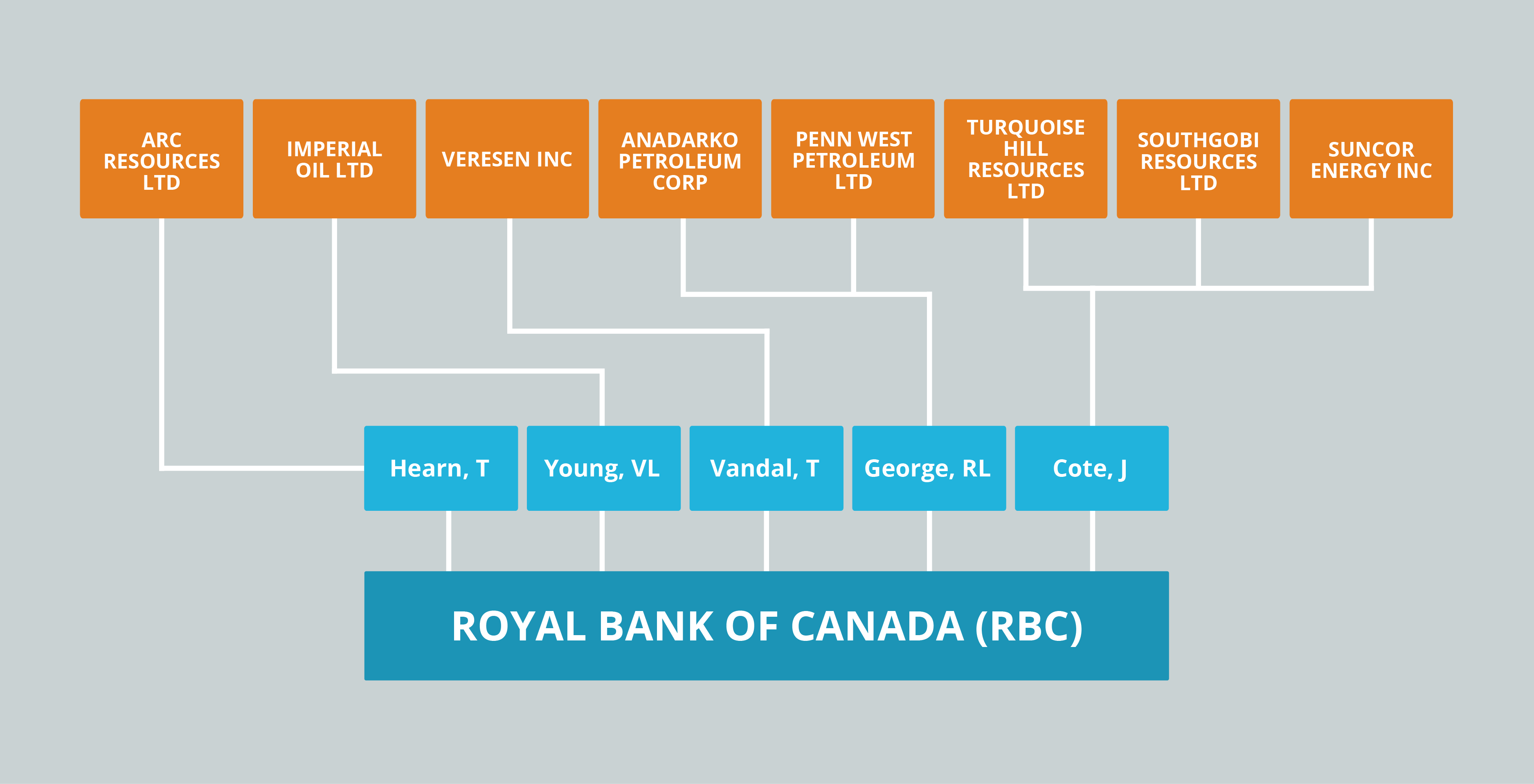 RBC has an ownership stake in all but one of the 8 fossil fuel companies it interlocks with: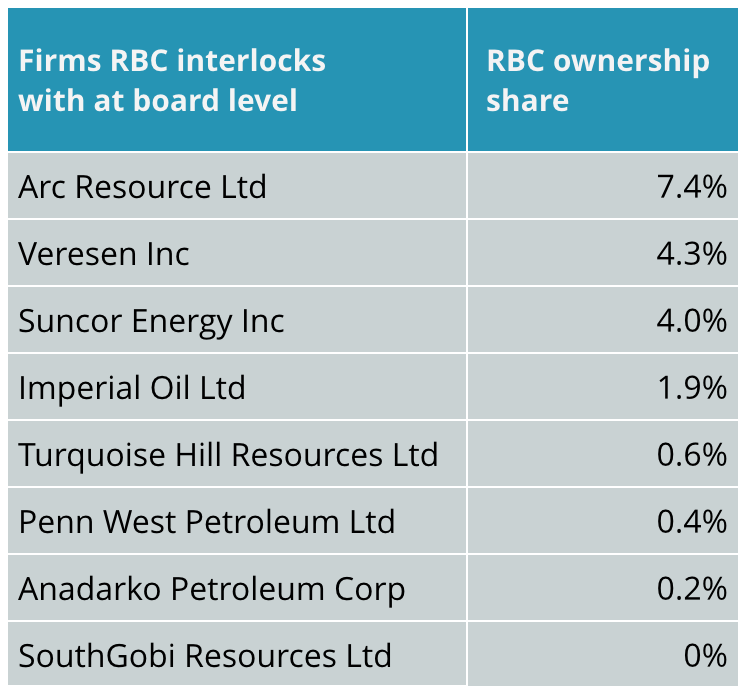 Clearly, RBC is not an arms-length observer of climate policy in Canada.
When its CEO says "we cannot get to the economy of the future without using all our resources, smartly and sustainably" — we should ask the obvious question, how can Canada possibly use all its resources and be sustainable?
The answer lies in some other recent climate-related headlines.
Last week NASA's chief climate scientist confirmed the world has likely permanently passed the threshold of 400 parts per million atmospheric carbon dioxide — a dangerous level that means action on climate change needs to speed up if the world is to avoid going beyond 2°C of warming.
Two weeks ago, a report from Oil Change International found that extracting and burning the oil, gas and coal in the world's currently operating fields and mines would mean going beyond 2°C of global warming. Never mind opening up the vast amounts of proven and probable fossil fuel reserves.
So when David McKay says we need to extract, pipe, export and burn more fossil fuels in order to make the transition away from fossil fuels at some vague unspecified time in the future…we should recognize this baffling claim for what it is: a defense of the oil and gas industry's interests, and by extension those of RBC, at a time of unprecedented scientific evidence that ambitious climate action is urgently needed, and growing public appetite for leadership that reflects that urgency.
—
Notes
1. We assembled a sample of 238 fossil fuel companies based in Canada with year-end assets in 2014 of at least $50 million. The top 15 revenue-earners, or "majors", account for nearly two thirds of the sample's total revenues.
2. Ownership data obtained from Orbis – Bureau van Dijk, a global corporate information database. Ownership data is current to 2016.
3. Board interlock data was collected in late 2015 from Obis, FP Infomart, and corporate websites and reports.
—
This research is supported by the Social Science and Humanities Research Council of Canada (SSHRC).
Author:
Shannon Daub & Bill Carroll
Shannon Daub and Bill Carroll co-direct the Corporate Mapping Project.