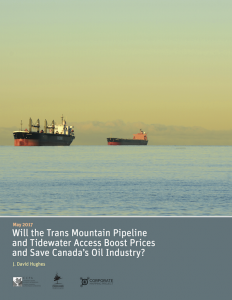 This report examines the argument that building pipelines to 'tidewater' will unlock new markets where Canadian oil can command a better price than in the US, where the majority of Canadian oil is currently exported, using Kinder Morgans Trans Mountain Extension Project as an example.
The research found that problematic assumptions led to the pipeline's approval by the federal and Alberta governments, and that in fact a 'tidewater premium' does not exist.
The report points out that increasing oil and gas production while at the same time trying to reduce carbon emissions are conflicting priorities, and that Canada has no energy strategy beyond liquidating its remaining resources as fast as possible.
What Canada needs is a comprehensive energy strategy that addresses both the future energy security of Canadians and the country's commitments on climate change, the report explains.
Other resources related to this report:
This study is as part of the Corporate Mapping Project, a research and public engagement initiative investigating the power of the fossil fuel industry in Western Canada. The CMP is jointly led by the University of Victoria, Canadian Centre for Policy Alternatives and the Parkland Institute.
Author:
David Hughes
J. David Hughes is an earth scientist who has studied the energy resources of Canada and the US for more than four decades, including 32 years with the Geological Survey of Canada (GSC) as a scientist and research manager.