Despite sustained opposition to Kinder Morgan's plan to twin the Trans Mountain pipeline, Prime Minister Justin Trudeau and his Cabinet gave it their blessing yesterday.
Reaction from the many people, communities and nations opposed to the pipeline was swift. Twenty one municipalities and over 100 First Nations and Tribes have registered their opposition since the project was first proposed in 2012. The Tsleil-Waututh Nation, whose traditional territory surrounds the Burrard Inlet at the pipeline's endpoint, has already mounted two legal challenges of the National Energy Board's review of the pipeline, and further challenges by First Nations are likely to come. Public protests over the last two years have highlighted the risks of spills along the route from Alberta to BC's coastal waters, and the climate impacts of building new pipelines to enable massive increases in bitumen production and exports.
Kinder Morgan Canada, a domestic subsidiary of the $81 billion US-based parent firm, will be responsible for constructing 980 km of new pipeline and various pumping facilities along the route. This includes traversing numerous waterways, endangered wildlife habitat, and parks. This includes lands formerly part of Finn Creek Provincial Park, whose boundaries Kinder Morgan had changed earlier this year.
We keep hearing that safety is a high priority for this industry, but history speaks louder than words. Trans Mountain has reported "approximately" 82 land-based spills to the National Energy Board (NEB) since 1961. The projected threefold increase in tanker traffic through Vancouver's harbour that will be required to accommodate the increased oil volume poses environmental and health risks that no amount of marine response money or preparation can mitigate.
Yet despite the tremendous Indigenous, municipal and popular opposition in BC, despite the potentially devastating environmental and climate impacts, and despite the shallow assurance by the National Energy Board that the expansion is in "Canada's public interest," the Trans Mountain pipeline is being pushed ahead.
So why are Kinder Morgan's interests — and those of the fossil fuel industry more broadly — being accommodated? How are these interests pursued and met in a province so vocally opposed to the expansion?
Kinder Morgan's visible political influence
One approach to answering these questions is to look at the political party financial donations and lobbying efforts made by Kinder Morgan Canada in recent years. By contributing money to a political campaign or meeting with an elected official, corporations can garner support for favourable policy initiatives or regulatory change. And they can support political parties whose larger policy agenda aligns with their own.
Lobbying and donating to political parties are both legal in Canada, though regulations vary by province. BC is one of few provinces with no limit on corporate donations (as is Saskatchewan, whose leading political party appears to have benefitted handsomely from vast sums of money from Alberta-based fossil fuel corporations over the last decade).
Above all, these tactics provide corporations access to key decision makers who have the power to endorse initiatives that suit their interests (like moving a park boundary, for example). According to a recent report covering corporate influence in Canadian politics, such efforts "tilt the playing field towards politicians, parties and policies that better serve those interests, regardless of whether those interests represent the wishes of the majority of citizens."
Kinder Morgan Canada is a private subsidiary, which makes it difficult to track its political activities in detail. However, we know that from 2011 to 2015, Kinder Morgan contributed $38,000 to the BC Liberal Party.i Over roughly the same time span (September 2011 to September 2016), Kinder Morgan initiated a total of 458 lobbying-related contacts with political representatives across the province. These included face-to-face meetings, but also written communications and reports sent to government officials. For ministries, Natural Gas Development, Environment, and Transportation and Infrastructure top the list (see table below).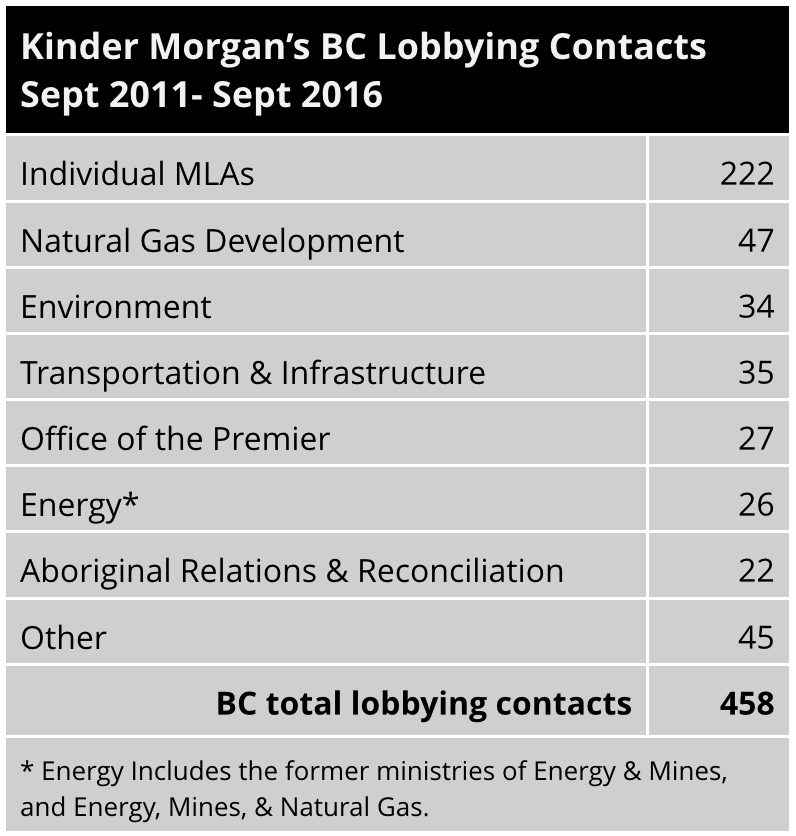 The most lobbying attention was paid to provincial MLAs. In total, 222 contacts with MLAs were made by Kinder Morgan, mostly since 2013. A majority (153) of the targeted electoral districts – Prince George (20), Kamloops (16), Fraser-Nicola (1), Chilliwack and Hope (27), Abbotsford (31), Surrey (20), Burnaby (28), and Vancouver (12) – are regions and cities along the pipeline's route.ii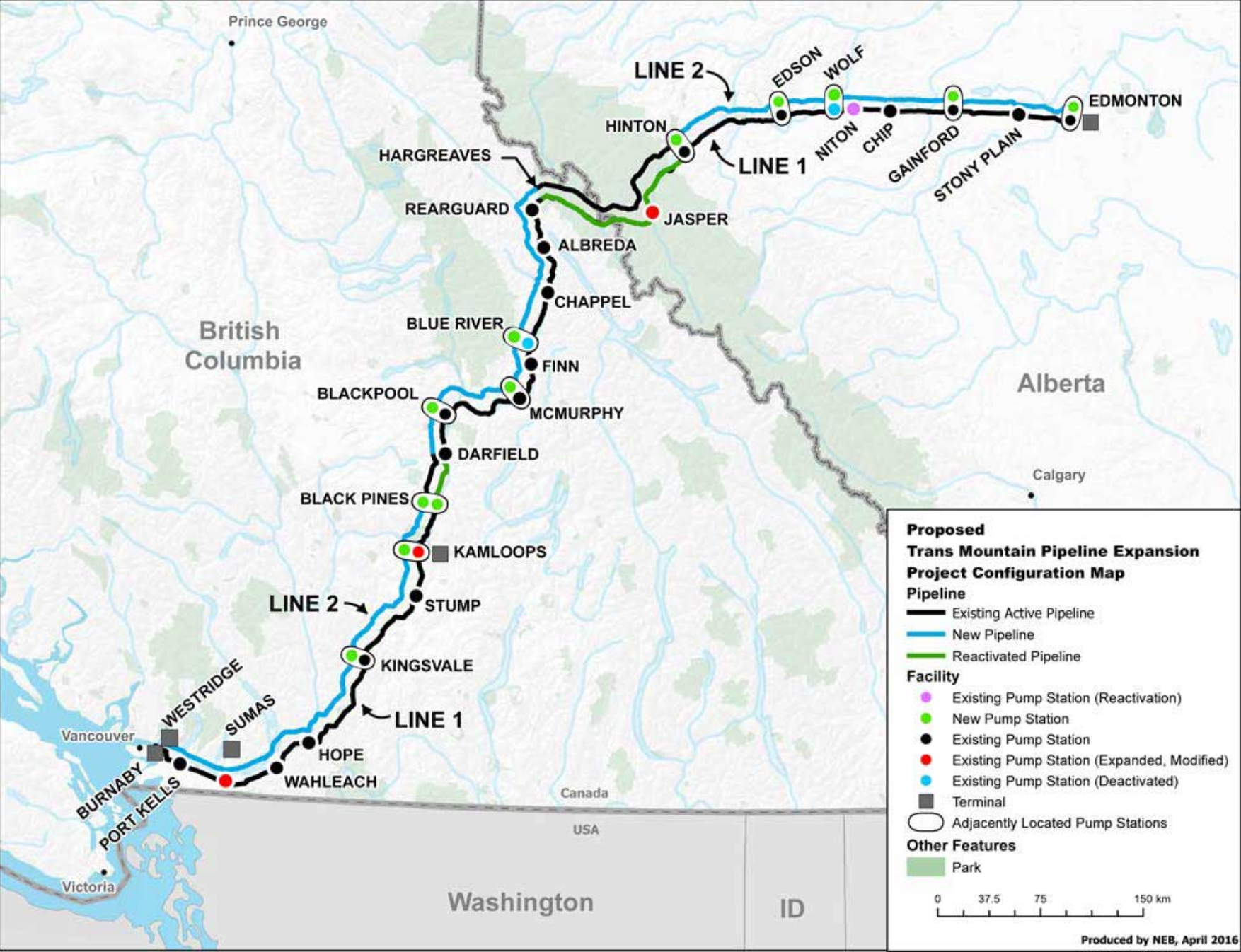 Many of the most recent contacts, arranged between December 2015 and September 2016, target the Ministry of Natural Gas the Oil and Gas Commission, and Premier Christy Clark's office. These contacts had one expressed purpose: developing the Trans Mountain expansion project.
So have Kinder Morgan's political dealings in BC had a direct impact on this approval? It's hard to say. But these data show that they sure have been working diligently to sway the "public interest" all along the pipeline's path by targeting politicians and regulatory officials.
Kinder Morgan's reach of influence does not stop at the Rockies—it has been busy lobbying in Alberta as well. While less information is made publicly available by the Alberta Lobbyist Registry than its counterpart in BC, we do know that Kinder Morgan targeted the Department of Energy, the Premier's Office, and the Department of Environment in the past three months.
Kinder Morgan's Alberta lobbying efforts over the past nine months focused exclusively on the Trans Mountain expansion, seeking, amongst other objectives, to "convey economic importance and benefits of the proposed Trans Mountain Expansion Project through increase market access for Alberta crude oil products."
Next, let's take a look at the federal level. After all, this project is moving ahead because of endorsements by the federal government and NEB. And we can't forget that industry consultant Steven Kelly, previously hired by Kinder Morgan to endorse the expansion, now sits on the National Energy Board. Conflicts such as this led environmental groups to urge Prime Minister Trudeau to overhaul the NEB in early September. This did not occur.
Our research indicates that Kinder Morgan and its subsidiary Trans Mountain initiated a whopping 368 meetings with federal officials between February 2011 and October 2016.
Members of the House of Commons received the most attention from Kinder Morgan lobbyists. Why is this relevant? Because the National Energy Board reports to Parliament and its members via the Ministry of Natural Resources, which in turn acts as an advocate for resource development within the federal government. Natural Resources Canada itself was next in line with 107 lobbying meetings. Also, notably, Kinder Morgan targeted the Prime Minister's Office 19 times.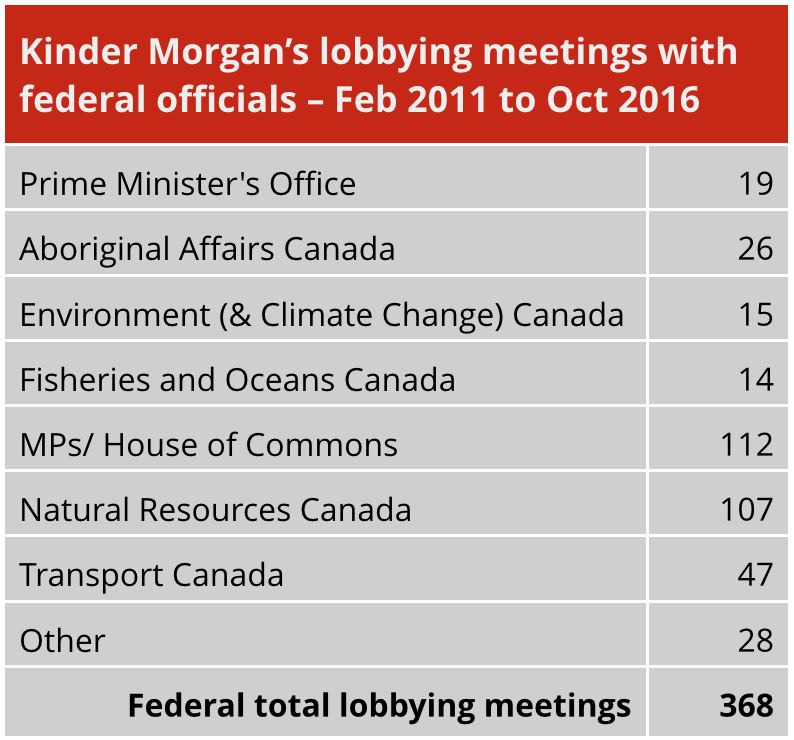 In the first 10 months of 2016 alone, Kinder Morgan Canada initiated 47 meetings with ministry representatives, and Trans Mountain initiated an additional 14. The targets of these meetings include senior policy advisors within the Ministry of Natural Resources and the Prime Minister's Office, and the chiefs of staff for Fisheries and Oceans Canada, Environment and Climate Change Canada, and Natural Resources Canada. It's not hard recognize the various opportunities for favourable policy direction here.iii
All together, these combined BC and federal lobbying efforts total 826 contacts over six years (not to mention those in Alberta that we do not have information about). This amounts to about one contact every two business days during that period. How much public sector resources were required to field these contacts? Resources that could have been spent on public consultation, research, or a variety of other objectives that serve the public good.
Finally, we can't lose sight of the big picture – the wider economic interests that are served by approving this pipeline. As noted, Kinder Morgan Canada is a subsidiary of Kinder Morgan Inc., a publicly-traded company. A quick review of the parent company's Canadian shareholders sheds some light on who will profit from expanding the volume of oil flowing to Burrard Inlet and the Salish Sea.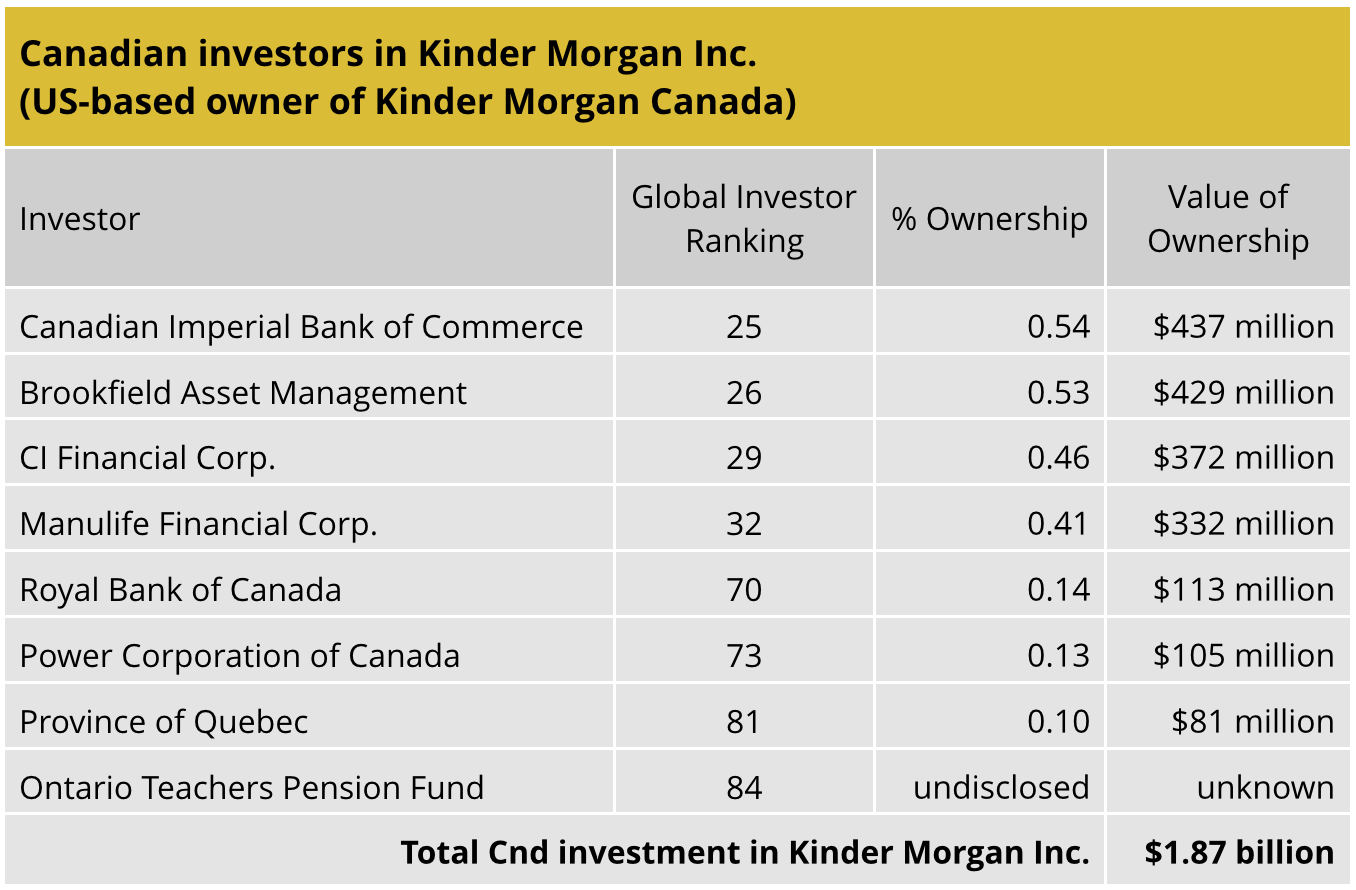 There are some serious financial players on this list, including CIBC, which holds 0.54%. While this may not seem like much, it equals roughly $437 million of Kinder Morgan's total $81 billion asset value.iv
The CEO of another significant Canadian shareholder, the Royal Bank of Canada (RBC), recently gave a speech ostensibly about climate change that endorsed the pipeline industry in Canada. Based on these figures, RBC has another 113 million reasons to further undermine Canada's Paris pledge to lower greenhouse gas emissions by 2030.
The president of Kinder Morgan Canada, Ian Anderson, recently claimed he is not smart enough to know whether human activity  – i.e. the fossil fuel industry – causes climate change. But why should he be? As the lead lobbyist for his firm, his task is to generate profit for shareholders, which, as the information above shows, he pursues by massaging the political climate across the country to assure the conditions for pipeline approval are met.
At the end of the day, fossil fuel companies like Kinder Morgan are only accountable to their bottom line – not to the public interest . Upholding the public interest is the responsibility of our political leaders, who should be smart enough to recognize that this pipeline expansion was opposed from the beginning.
Notes
i. Contributions were made by Kinder Morgan Inc., Kinder Morgan Canada, and Trans Mountain Pipeline Company (the last two are wholly owned subsidiaries of the first).
ii. Provincial Lobbying data were gathered from the BC Lobbyist Registry. The term 'contacts' is used because the Registry does not stipulate whether meetings actually occur between the corporation and the target.
iii. Federal lobbying data were gathered from the Office of the Commissioner of Lobbying website. Federal data includes actual meetings (pre-arranged oral contacts) that took place.
iv. Shareholder information was gathered from the Orbis – Bureau Van Dijk corporate information database, and is current to 2016.
–
This research is supported by the Social Science and Humanities Research Council of Canada (SSHRC).
Author:
Mike Lang & Shannon Daub
Mike Lang is a research assistant with the Corporate Mapping Project and a PhD student at the University of Victoria. His research focuses on the political ecology of the water and energy in BC. Shannon Daub co-directs the Corporate Mapping Project, and is Associate Director of the Canadian Centre for Policy Alternatives BC Office.