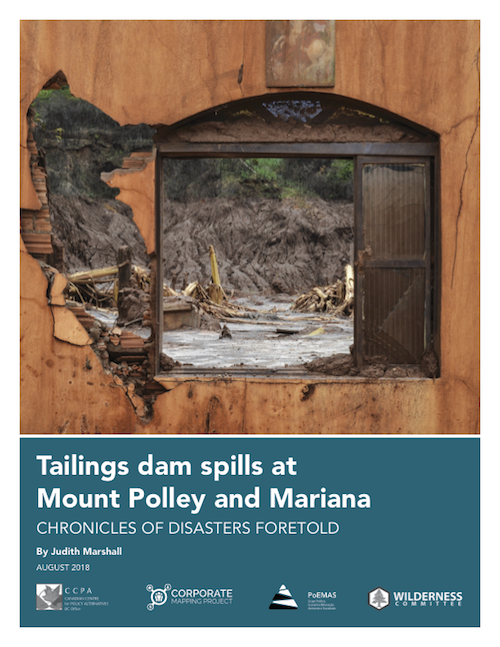 This paper explores the many parallels between the tailings dam spills at the Mount Polley mine in British Columbia (BC), Canada, and the Samarco mine in Mariana, Minas Gerais, Brazil.
The Mount Polley disaster took place in August 2014, when the dam holding toxic waste from the copper and gold mine collapsed, creating the largest environmental disaster in Canada's mining history. In November of the following year, the largest mine disaster in Latin American history took place in Mariana, Brazil, when an even larger reservoir of waste collapsed at the Samarco iron mine. This paper finds numerous similarities in the circumstances leading up to and following the disasters, and argues they point to troubling systemic problems in the global mining industry.
Download the report  

Download the summary  

Resources related to this report:
—
This study is part of the Corporate Mapping Project (CMP), a research and public engagement initiative investigating the power of the fossil fuel industry. The CMP is jointly led by the University of Victoria, Canadian Centre for Policy Alternatives and the Parkland Institute. This research was supported by the Social Science and Humanities Research Council of Canada (SSHRC).
Author:
Judith Marshall
Judith Marshall is a Canadian popular educator and writer. She worked for eight years in the Ministry of Education in post-independence Mozambique, designing curricula for workplace literacy campaigns. On her return to Canada, she completed a PhD at the University of Toronto with a thesis—and later book—on literacy, power and democracy. She has recently retired after two decades in the Global Affairs department of the United Steelworkers, which included member education on global issues and the organization of many international exchanges of workers, especially in the mining sector. She is now an Associate of the Centre for Research on Latin America and the Caribbean at York University in Toronto.